Profile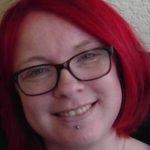 Donna Johnson
Drinking tea and answering questions
Curriculum Vitae
Education

Summerhill Secondary School (1992-1997). King Edwards 6th Form College (1997-1999). Wolverhampton University (1999-2002). Manchester University (2005-2009)

Qualifications

9 GCSEs, 4 A-levels, BSc(hons) in Genetics, PGcert in teaching and learning, PhD in genetics.

Work History

National Physical Laboratory, NHS, Harper Adams University, Liverpool John Moores University

Current Job

Senior lecturer in microbiology and biotechnology, MSc course director

Employer
Favourite thing to do in my job: Making fluorescent bacteria

About Me: Sci-fi loving, tea drinking scientist.

Read more

I live and work in Leeds. I share my flat with an ever growing ginger boy and cardboard cut outs of Captain Jean-Luc Picard and a Dalek.

I like to go roller skating and have yet to do myself serious injury so I think I'm improving. I can't play any musical instruments though I would love to be able to play the piano. I like to sew and the last thing I made was a quilt for my son.

My favourite pizza is ham and mushroom though I'd choose curry over pizza any day.

My Work: Lecturing and research

Read more

I am a lecturer and the course director for our MSc courses. I teach genetics and statistics mostly though I get to teach some microbiology too. I have project students in the lab every year and they work on looking at how bacteria become resistant to antibiotics. My research is on the same subject. I just got to work on a project using next generation sequencing which was great!

My Typical Day: Busy!

Read more

I usually get to the office for 7am. I'm the first one in and it's lovely and quiet in the office!

I make myself a cup of tea and reply to my emails and plan what I need to do that day. I always have a massive to do list so that's where I start. At the moment most of my morning is taken up with marking, though during term time I might have a 9am lecture. I like the 9am time slot but my students don't!

We're in the middle of redesigning our MSc course so I'm having lots of meetings with people to talk about new modules and what we want in them. I have an MSc student in the lab at the moment as well so I try and catch up with her most days and talk about her results and what she's going to do in the lab that day.

I have a load of sequencing data that I need to complete the analysis for and try to get published so I'm spending a lot of time doing that. I have some summer students starting soon so I'll be able to spend more time in the lab with them and working on my research, which I'm looking forward to.

I try and finish work between 3 and 4 and most days I manage it. Then it's off home to watch TV/read/mark. Unless it's a Thursday and then we go to the pub 🙂

What I'd do with the prize money: I would like to run an agar art session. Making pretty pictures with coloured bacteria.

Read more

I love looking at the ASM agar art submissions every year and I would like to run a session here.

There would be a planning session where we talk about the different bacteria and what makes them coloured then people would get to have a go at drawing their own pictures using the bacteria. After they've grown we'd post the pictures on Twitter and pick the best one.

My Interview

How would you describe yourself in 3 words?

Nerdy, organised, morning person

What or who inspired you to follow your career?

The Human Genome Project (and failing chemistry miserably)

Were you ever in trouble at school?

No, total swot

If you weren't doing this job, what would you choose instead?

Unhappy

Who is your favourite singer or band?

Nick Cave

What's your favourite food?

Curry

What is the most fun thing you've done?

Bungee jumping

If you had 3 wishes for yourself what would they be? - be honest!

To win the Euromillions jackpot. To publish in Nature. To visit the pyramids.

Tell us a joke.

What's brown and sticky? A stick.
---
---
---