Profile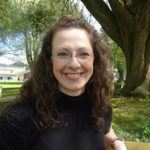 Avril Tucker
Curriculum Vitae
Education

1995-2001: Airdrie Academy, 2001-2005: Robert Gordon University, 2008-2010: Robert Gordon University, 2016-2017: Cardiff University

Qualifications

Pharmacy degree (MPharm), Clinical Pharmacy Diploma (PG ClinDip), Non-Medical Independent Prescriber (IP)

Work History

Community pharmacy (Boots, Lloyds, Co-op, Well) and NHS primary care (health board)

Current Job

Primary Care Antimicrobial Pharmacist

Employer
Favourite thing to do in my job: Make a difference through improving quality

About Me: I help prescribers of antibiotics to use them wisely

Read more

I am 33 years old and originally come from Glasgow in Scotland. I went to university in Aberdeen but now live in South Wales with my Welsh husband. We have been married for 9 years and have 2 young children- a boy aged 5 and a girl aged 3. My husband can speak Welsh so I tried to learn before the kids were born but gave up because it was SO HARD!!!!!!! My 5 year old can now speak better Welsh than me!

My Work: I am a Primary Care Antimicrobial Pharmacist

Read more

I have been a pharmacist for 11 years but specialised 1.5 years ago to became an antimicrobial pharmacist, which means I work with antibiotics and infectious illnesses. I have recently also completed another qualification which allows me to write prescriptions for antibiotics for the patients that I see in my minor infectious disease clinics.

My Typical Day: I either write or help others to write appropriate prescriptions for antibiotics

Read more

Every day is varied so it is difficult to answer that. I mostly attend meetings about antibiotics, review the antibiotic prescriptions written by GPs and/or give presentations about my work or the larger issue of antimicrobial resistance (AMR). I also help to improve the quality of current processes related to antibiotic prescribing.

What I'd do with the prize money: I'd use the money to start a public campaign aiming at increase awareness of AMR, possibly with a video.

Read more

Antimicrobial resistance is a relatively easy concept to understand when it is explained in a simple, visual format. I believe that through understanding the impact of it all, other messages regarding appropriate antibiotic use start to make sense. For example, why it is so important to complete the course of the antibiotic, and why you should always take them as prescribed- without holding some back or sharing them with others. I'd use the money to raise awareness over social media and to create a 2nd follow-on video to the one I have already made. This can be viewed at https://youtu.be/P8ikgCwsjNE.

My Interview

How would you describe yourself in 3 words?

Enthusiastic, determined, fun

What or who inspired you to follow your career?

chemistry teacher

Were you ever in trouble at school?

Lots of detention from my music teacher

If you weren't doing this job, what would you choose instead?

artist- not that i have any skills but i would like to have some!

Who is your favourite singer or band?

Paloma Faith

What's your favourite food?

Pad Thai

What is the most fun thing you've done?

Worked on an outdoor activity horse ranch in France

If you had 3 wishes for yourself what would they be? - be honest!

a new car (current one about to fall apart), a new antibiotic (one that bacteria wont develop resistance to) and a new method of being able to identify bacterial infections

Tell us a joke.

What do you call a 3 humped camel? Pregnant!
---
---